---
Choose your wedding style
If you dream on a Romantic wedding: candlelight dinner, champagne, elegant settings, great and soft music are the most important elements. A romantic atmosphere thanks to silk and chiffon tissues, delicate flowers, candles and lights that transform the feel of your wedding. Choose a Romantic location for your wedding and all work is done for you!
Boho chic wedding style is colourful and amazing, it has come to mean free-spirited and draws influences from hippie culture. If you're looking for lace, flower crowns, flowy sleeves, and wildflowers, this bohemian chic collection is made for you.
A Vintage wedding never go out of fashion! If you love old fashioned clothes, architecture, and furniture all of them inspired to the '20s, this is your wedding style. All decorations must invoke the retro style: vinyl records, candles and crystals, the beautiful simplicity of wildflowers, ancient suitcases. A vintage theme always looks great!
Country wedding is what Puglia inspires the most!
Beautiful farmhouses, ancient olives trees, vineyards and hay bales create together the most perfect country scenes. Imagine a bride riding a horse and the groom waiting for her on a lawn flowers.
Taking place on the groom's family farm this wedding is filled with personalized details, rustic charm and outdoor wedding inspiration, a sunset barbecue for all the guests and folk music all over the night..
Do you like being a pin up bride?
A Rockabilly wedding is inspired to 1950 pin up style, birdcage veils, short white gloves, tea-length gowns, and more. The most important colour is red from the bride's dress to the accessories. The style comes from rock n' roll icons of the 50's with a splash of modern country. If you like extravaganza, the Rockabilly is your wed style!
Biker wedding theme means a unique event. Bride and groom bikers, a funny wedding, leather jacket , helmet, gloves sunglasses for a very unconventional look! Black and white is a common colour scheme, which is the most traditional wedding colours of all.
Whatever your wedding style is, MarryluEvents will be glad to organise it for you!
---
Luca & Francesca 17/09/2022
"…What a crazy day, the most beautiful of our lives!.."Read more Instagram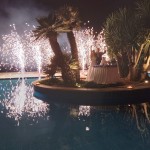 ---