---
---
Did you choose your venue for your wedding day?
---
---
I have pleasure in introducing you my best wedding venues in Puglia. Countryside, ancient olive trees, blue sea, beautiful beaches will embrace bride and groom with perfumes, flavours and traditions. I choose the Apulyan wonderful landscape in order to set unconventional weddings, not restaurant lounges with shiny marble floor and chandeliers, but simple, unique, elegant venues..the most representative one!
Three important places impressed me when I came back here: the beauty of the blue Mediterranean sea, the mistery of ancient white towns and the charming farmhouses. Walking along these beautiful apulyan masterpieces, I go back in the past where people lived there by nature, by pure energy in a world of traditions and values to be respected. Celebrating a wedding day here means to live again those times in a perfect harmony with past and present. Thinking about your wedding day means let your guests smile. Being in Puglia is wonderful!
---
Be original, simple and fashion like the apulyan farmhouses.
Ancient fortified buildings dated 1700 with a court, a little church with paintings, a main house where the manager's family lived and run the farmhouse, rooms and accommodation for people working there. Nowadays these buildings have been renewed, preserving their integrity and fashion; a lot of people are interested in organising special events such as: celebrating ceremonies, country chic dinner under olive trees, the farmhouses have become exclusive country resort.
The timeless beauty of the Jonic coast with sandy beaches hosts very elegant ceremonies; special candlelight dinner overlooking the apulyan sea
---
---
Eugenio & Tiziana 04/09/2021
"Beautiful moments" thanks to Lorenzo Palazzo photography-
see more onInstagram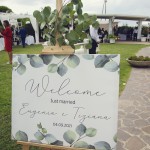 ---